Redundant Exchange Environment
Hosting.ca has deployed a load balanced Exchange 2010 and 2016 clusters allowing for maximum uptime for our customers. As shown in the following image below, we have taken the extra step and added a secondary Exchange server in case an entire failure would occur. In fact, all of the required Exchange servers have been duplicated to avoid any downtime. We have deployed many DAG groups to maximize uptime.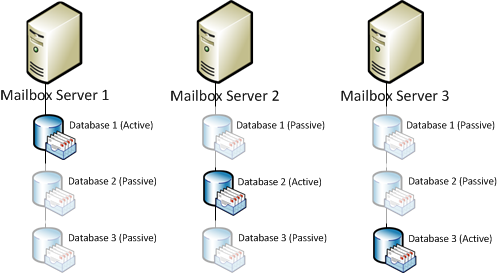 Your typical exchange environment would only include 1 Mailbox Server, 1 Active Directory, 1 Client Access Server, and 1 Hub Exchange Server. Hosting.ca has duplicate servers. Other providers may be using another type of clustering system with shared storage. If that storage becomes corrupt or fail, your email will not be accessible. Hosting.ca is different. We do NOT use shared storage.
In addition to the normal Exchange services we offer, we have also installed a cluster of Barracuda Spam Server appliances. This assists us in up to the minute spam protection by Barracuda Networks. Please see the Barracuda details page for more services that it provides.