Create new Outlook Profile
Create new outlook profile. This is a help document on how to create a new Outlook profile. This will apply to: Outlook 2016 Outlook 2013 Outlook 2010. This is useful when performing a migration to Hosting.ca Hosted Exchange 2016 services. This will also apply to our Exchange 2010 hosting services. This is only for Windows based operating systems, and not for Mac.
Exit Outlook, and then do one of the following:
Choose Start > Control Panel > Mail.or
Choose Start and in the Search programs and files box, type Control Panel, and then choose Mail.or
Open the Control Panel, and in the Search box at the top of window, type Mail.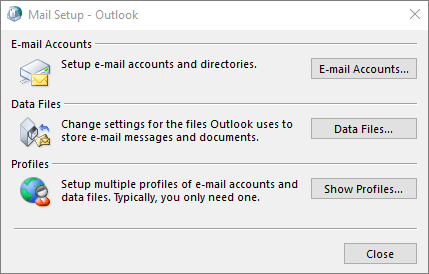 Choose Show Profiles > Add.
In the Profile Name box, type a name for the profile, and then choose OK.
You can add more (non-Exchange) mail accounts to your profile, like Gmail or Live.com. Or you can change options for your account's data files. See Edit an Outlook profile to learn how.
If you need to switch to an old Outlook profile on the same PC in order to copy data from it, you can follow the steps in the Switch to another Outlook email profile article.