TLS Errors in Outlook
We've received reports of some users not being able to connect to our mail services and getting security errors. We realize that not everyone has the latest and greatest operating systems and email programs. So we've discovered that some older operating systems will be getting TLS errors in Outlook or any email client supporting TLS. You will need an update applied to enable TLS 1.2 on the operating system you are using.
This will be happening for any of our email hosting, web hosting, and exchange hosting plans.
https://support.microsoft.com/en-us/help/3140245/update-to-enable-tls-1-1-and-tls-1-2-as-default-secure-protocols-in-wi
If you're using Windows 7, Windows 8 this will need to be applied. Even Windows 10, you may need this update, or you will get TLS errors in Outlook.
On Windows 7
1. Press the Start Button. In the search area type in "Internet Options", click on that once you find it.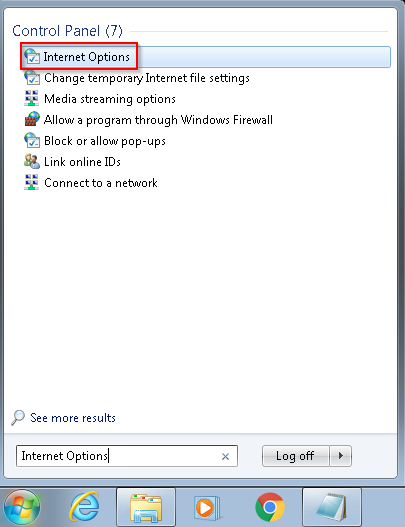 2. Click on the Advanced tab and from there scroll down to the very bottom. If TLS 1.2 is checked you are already all set. If it is not, please check the box adjacent to Use TLS 1.2 and then Apply.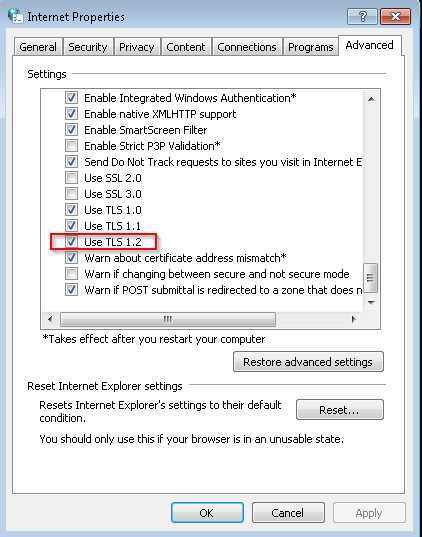 After the changes, you may need a reboot. After this, you will not be getting any TLS errors in Outlook.