Website Builder
Website Builder
We've used many website builders before and find that the web is constantly evolving. We like to use products that are strong and have a large community base with constant security updates and functions. A website builder we like to use is WordPress. WordPress is the leading content management system (CMS) platform running on over 15 million websites. It's affordability and ease-of-use make it the go-to website building program for newbies and experts alike.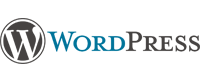 There are many benefits to using WordPress including:
The WordPress software is free.
It's easy to learn.
You can manage your website from any computer. No FTP required.
No need to know HTML, although some basic coding knowledge is always helpful.
You can customize WordPress to represent your brand.
WordPress functionality can be expanded through the use of plugins.
Search engines like WordPress, especially when it's used as a blog.
WordPress can be used as a blog or a static website.
A Little History
WordPress was born out of a desire for an elegant, well-architectured personal publishing system built on PHP and MySQL and licensed under the GPLv2 (or later). It is the official successor of b2/cafelog. WordPress is fresh software, but its roots and development go back to 2001. It is a mature and stable product. We hope by focusing on user experience and web standards we can create a tool different from anything else out there.
We have web hosting packages dedicated to WordPress. See our WordPress hosting packages here.